New York City, 9-11-02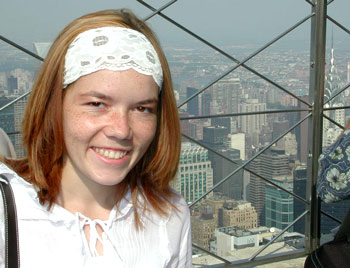 Alicia Jones on top of Empire State Building
New York City, USA
September 2002
On the morning of 9-11-02 I flew into New York City. As the plane banked towards JFK airport, I looked beyond the wing to the looming white light below in the center of Manhattan--Ground Zero. It the early morning darkness I could easily see Ground Zero illuminated for the day's remembrance ceremonies. I could also see a large American flag draped over the front of one of the damaged buildings serving as a huge shroud...this sight, my first personal view of NYC, gave me chills. It was chilling to stare into the horror of New World Order terrorism on our home shores.
I wanted to go to NYC one year after 9-11 to spend time with my daughter Alicia who is a senior at Columbia University's Barnard Women's College. She was there last September 11th and braved the months and year to follow. I wanted to mark Alicia's stoic efforts to remain in NYC and to mark my determination to not roll over for those terrorists bastards.
The mood in NYC was weary...people there seemed tired of the whole ordeal and of the whole world grieving with them. There was very little talking during the Ground Zero ceremonies. After a few hours it became overwhelming because this morning represented a full year of sadness. We retreated for lunch in China Town before returning to Ground Zero to view the cathedral shrine for the victims and nearby photo exhibit.
I spent five days in NYC. It was good to be there and see Alicia albeit somewhat difficult and emotional the first day at Ground Zero. People walk fast there! People walk a lot period! I enjoyed the abundance of cultural activities from Little Italy to Greenwich Village. We saw a Broadway musical Chicago, toured the Empire State Building, hit a few pubs, and generally did a lot of walking around--we even saw a Yankees game. I was very impressed with Columbia University--such a stately American institution and quite an honor to witness the history surrounding the school. I took some great photos of athletic artwork on Barnard and Columbia campuses--if you enjoy Greek and Olympic history, you might want to check them out...enjoy...
Ron Jones
November 2002
Below are my photo slide shows separated by topic: