Elite Men's Development Camp
US Olympic Training Center 2002
Chula Vista, CA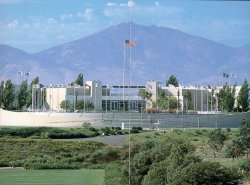 I was fortunate to assist my CSU, Northridge mentor and U.S. Olympic Team Psychologist Dr. Tommie Lee White as a graduate assistant this last summer at the USOTC in sunny Chula Vista, CA. Dr. White volunteers every year to assist with the sport psychology component of this annual development camp for young men in high school and early college. Top performers that are "Olympic hopefuls" are gathered by invitation only to attend this three day camp intensive. The athletes are trained, coached, and mentored all day and during the evenings attend presentations by elite coaches or other professionals such as Dr. White. I was able to assist Dr. White with the evaluation surveys, observe some counseling sessions, and randomly attend the training sessions when I wasn't busy helping Dr. White. I also had a chance to do two really nice distance runs around the training center grounds and cruise the U.S. Olympic Committee Spirit Store for those cool Roots sweatshirts worn in the 2002 Salt Lake City Winter Games!
My summer experience at the U.S. Olympic Training Center was really wonderful. I met some great coaches and was honored to be on board with three former U.S. Olympians--Duncan Atwood, Harold Connolly, Jay Sylvester. Connolly and Sylvester were even Gold Medalists. When you're sitting at the dinner table with Olympians and Olympic Gold Medalists--you listen and learn! What they say in casual conversation are not in text books--definitely a great experience that I'll never forget. Check out the Chula Vista facility if you get a chance--it's worth the trip.
Ron Jones
Fall 2002