Elite Men's Development Camp
US Olympic Training Center July 2003
Chula Vista, CA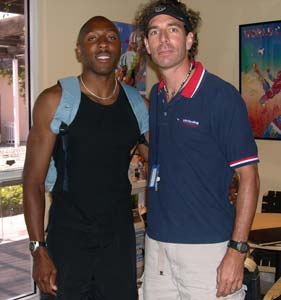 World Champion 400m Runner Tyree Washington & Ron Jones

I just had the wonderful opportunity to present my Mental Skills Training Workshop to the nation's best young track sprinters and hurdlers at the OTC in Chula Vista, CA. This was my second consecutive summer at the OTC for USA Track & Field. It's great to see young people working hard and applying themselves towards excellence, pursuing their educations, and potentially becoming our next Olympic champions. While my official capacity was a staff presenter, the OTC was also a great place for me to learn from other outstanding coaches and professionals. USA Track & Field and UC Davis Sport Psychologist Dr. Ross Flowers was on staff along with former UCLA Sprint coach Charles Clinton among others.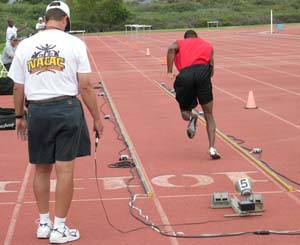 New laser technology determines speed, stride length, stride frequency,
and pressure force on starting blocks for optimal performance.
One of the most interesting updates this year at the OTC was USA Track & Field's new omega brain wave testing. USATF is now evaluating the low-frequency "omega" brain waves to determine central nervous system (CNS) recovery as opposed to monitoring heart rate to determine recovery. The central nervous system controls heart rate and takes the longest to recover compared to the cardiovascular and muscular systems. The CNS can be negatively impacted by mental as well as physical stressors. For example, USATF has found that even when our athletes have been in a low-demand workout cycle that did not require maximum physical effort, if they had excessive psychological stress it compromised their CNS and subsequently compromised their workouts. More proof that the mind controls the body and that the mind cannot be disregarded in athletic training!
Tyree Washington also donated his time to speak to the young athletes and coaches. I was very touched by not only his personal story of struggle but his compassion and sincerity to help these young men direct their lives towards the positive benefits of track and field. Tyree came out of a gang environment himself and watched friends die in his arms. He has used track to advance him as a person and athlete to become one of the world's best 400 meter runners.
The OTC was a great experience again. I'm looking forward to presenting in 2004 and helping our next generation of Olympians to strive for excellence through mental skills training.
Ron Jones, MS
July 2003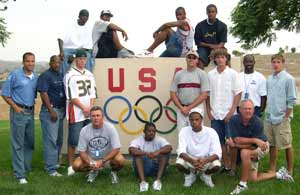 America's top young hurdlers and coaches!