WellPROS Tim & Theresa Wren
---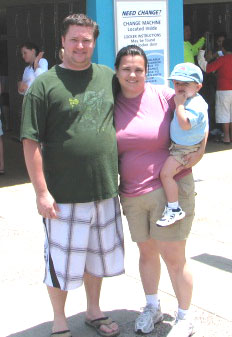 Tim & Theresa Wren-March 2007
(down 10 pounds each after our first meeting Feb.07)
My corporate client Tim Wren came to me with his wife Theresa a less than a year ago. They looked like many couples that see me about obesity--somewhere between very concerned and scared. What happened the next 11 months was "simply" amazing--and I do mean simple because through simple changes performed consistently over time, Tim and family went from Fat to Fit!!! These two lost 98 pounds "so far" and are still counting. Tim and Theresa are living proof that wellness works in corporate America--and even beyond to home and family!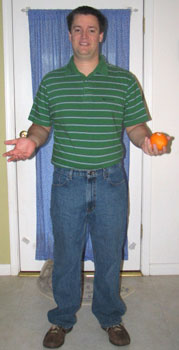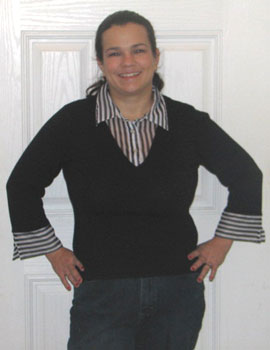 The "NEW" Tim & Theresa Wren!
Coach Comments: Every so often I'm completely amazed at "how little" a person needs of the truth to completely change their health behaviors and family culture towards wellness. Usually, there is a fair amount of work between a Corporate Wellcoach like myself and the clients--sometimes months to years. Tim and his wife Theresa sat down with me in person only a couple of times in the last year. We also exchanged some supportive e-mails, but for the most part, the Wren Family got on the action end of change and changed themselves. This is worth noting--it doesn't always take daily or weekly interaction with a professional, fancy gym memberships, or clinical intervention to make a radical change in a short amount of time. Some people need more help--that's what I'm there for and paid to provide--and I'm happy to do it. Others need far less like Tim and Theresa. I think some people are searching for someone they can trust to bring them the bottom line and truth. There is so much information--too much. I cut through the excess and bring out the bottom line. Sometimes that's all a person needs--the direct truth in a simple way.
In the corporate world focused on business and money, sometimes "the person" gets lost...for many, I've been able to be the one person that truly connects with corporate employees or family members as a whole person--of mind, body, and spirit--from mental health to physical fitness to caring for their spirits as well. This being said, at times just for employees to know there is that one person they can talk to about any level of wellness is enough to give them accountability and keep them going--but not necessarily by "frequent" contact. My ego would like to say there was more RJ in this story, but that is not true. It's their story...and a great one that will help many other families to Get Fit and Be Strong!
Stats Overview: They are both around 30 years old. Tim is 5'9" and started at 234 pounds. He's down to 182 and still losing. His chronic acid reflux problem and the associated medications-GONE! His spicy food intolerance--GONE! His lack of energy and zest--GONE! All these issues disappeared along with the 52 pounds that he lost along the way. Theresa went from 196 down to 150 pounds; during this time, she gave birth to her second child! When we first met, they were wanting to have another child. Part of the motivation to drop fat and get fit was to prepare for pregnancy. Check this out! At five months pregnant, Theresa weighed LESS than she did before getting pregnant! Her doctor was amazed. Additionally, she also had a much faster postpartum recovery and much better milk production for her new baby than with her first child. In just a few weeks after giving birth, Theresa is still down a total of 46 pounds and all in less than one year!
So how did they do all this in less than a year while caring for a young son, working, getting pregnant, and delivering a second child? Pretty simple really. We started by going over my Top 10 for Permanent Weight Loss handout. You can read books on weight loss, but this is basically what people need to know. We discussed some reasonable strategies for getting started. For the Wrens, they needed something they could manage at home. They began with slow changes and worked as a team to change their family for the better.
Here are the Wren's most successful strategies and tips:
Diets & Fads vs. Lifestyle Changes: Like many families, the Wrens tried many diets and fads--none worked. This time they were focused on "the rest of their lives." Taking a slower more logical approach produced true success they felt they could sustain. Ironically, the "slower" lifestyle approach produced more and faster than the diets and fads! What they found more effective was success itself. With each success came more momentum and motivation. Because they did it together, they fed off each other's success and energy with each and every month. Tim said this "lifestyle approach" worked better because it was more sensible and sustainable.
Meals & Timing: Tim was not eating breakfast or eating at the right times--he basically starved his metabolism into storing fat. As soon as he started eating breakfast and at the proper intervals, he started dropping weight. He now can't go without eating breakfast! It's funny, but I've had clients add breakfast without changing any other eating patterns, and they started dropping weight--they actually ate more to weigh less! Never underestimate metabolism!
Rethinking Portion Sizes: The Wrens made a smart choice--they replaced their glasses and plates. They now use smaller plates and more narrow drinking glasses. Research shows that people will eat what is in front of them. If it's more volume, people eat it! So, a simple and effective strategy is to just reduce the volume in front of your face.
Exercising @ Home: The Wrens need to exercise from home because of their busy schedules. They have an exercise bike, elliptical trainer, simple dumbbell weights, stability ball, and some tubing along with outdoor bicycles and walking their neighborhood. Cash investment? Minimal! Cash savings on health care? MAXIMAL!!! It doesn't have to be fancy to be effective and get real results in a short amount of time! The key factor? Consistent work and reasonable goals. They get it done. Day after day, month after month, and now closing in on one full year. Less than one year of work completely changed their family and lives. Now they feel confident about setting good health examples for their children. Tim and Theresa have struggled with weight for years and did not want their children to grow up in an overweight and unhealthy family culture--times have changed for Tim and Theresa! The Wrens are accelerating with hard-rock health--so can YOU!
Weight Loss Competition: While this usually backfires for most because they gain weight back after the competition ends, for Tim, a weight competition at work proved to be a positive motivator for him. He said the financial incentive became the motivator for him to really focus on losing weight--but in a "healthy" way using exercise, proper eating, eating at the right times, and limiting portions, etc. He ended up winning the 17-week competition. You've got to love what he did with the prize money--he bought a new bicycle! And he's not using it for a clothes hanger--he's riding it to lose even more weight! It's literally been a "win-win" for Tim.
Weight Watchers Support: Tim said Weight Watchers was helpful for them and was used as a general guideline and comparison check beyond our coaching sessions. One good thing about Weight Watchers is that they don't let you starve! You MUST eat enough food per day to stay on track and keep your metabolism at optimal levels.
Dining Out & Traveling: I got a great e-mail from Tim a few months ago telling me how well they were doing. He went on to detail his travel preparations for food. He takes the time to bring some healthy foods when traveling now so he's not tempted or forced to rely on fast foods alone. Dining out with the family has become more of a special occasion instead of daily occurrence. It's easier for them to control their fat and calorie intake when eating at home. Interestingly, as Americans ate more away from home at fast food restaurants, obesity rates skyrocketed out of control. When the Wrens started eating at home, their weight dropped significantly. Do you think there is a correlation?!!!
Team Work: Tim and Theresa learned something valuable through their experience--maybe something they didn't quite think about when starting. They became a very good "health" team as a married couple and parents. I've seen a lot of couples work against each other when one wants and needs to change towards a healthier lifestyle. But Tim and Theresa worked together and strengthened their family unit as a result. Each had a positive energy the other recognized and used for momentum and internal motivation. They've worked together to come up with "preventative strategies" so they don't make bad choices when pressed for time. Once such strategy is having back up freezer meals for those nights when they are running behind and too busy to cook. Being well takes planning. Just a simple thing like a healthy meal in a freezer bag can literally save you "thousands" of calories on one meal alone when you look at fast food caloric density! Think about it--one meal at home can save THOUSANDS of calories per person! No wonder they have lost nearly a hundred pounds in less than a year!
Cultural Observations: I'm convinced that the highest level of corporate wellness is when a whole family changes its culture to value health--that's when you know it's for real and it's going to last--for generations. Some of this is fun--some rather interesting and even controversial in a Fast Food Nation like America. Tim now gets "fitness gifts" on special occasions that reflect his healthy lifestyle. The Wrens have also become more aware of how others view health and food. They've noticed that far too many people are excessively overweight and unfit. They've noticed that they at times are criticized because they do not support mindless junk food for their children in social settings. I've had a similar experience with people making fun of me or making fun of my children for eating healthy...interesting because this is the first generation of children predicted to NOT outlive the ages of their parents because of obesity-related diseases and illness. Adults are literally killing their kids with food. So who's being unreasonable with their kids and the future of our country? Not the Wren Family. They are adding to their family's foundation, longevity, and quality of life--with health and fitness.
Health and the benefits of being well are nothing new--just forgotten by many in this country. Daily exercise and eating at home over nearly 12 months have completely changed Tim and Theresa Wren and given them a chance to raise their children in a healthy culture for years to come. Great job Tim and Theresa--you are true WellPROS setting a positive example in your home, neighborhood, business environments, and community. Stay the course!
"We must live our lives in such a way that our children, and their children after them,
will form a natural and lasting commitment to the vigorous life.
Only in this way can we be assured that the spirit and strength of America
will be constantly replenished."
- John F. Kennedy
U.S. Physical Fitness Program Dedication, 1963
*This article was the WellPRO feature for my February 2008 Coach RJ Health e-Newsletter.
RonJones.Org | Back to Current Comments | Site Map
(Updated 1.28.08)