President Bush and the U.S. Department of Health and Human Services have announced a new initiative and website called HealthierUS.Gov in response to the national epidemic of obesity and American's lack of physical activity. Our lack of health and fitness is a national security crisis. If the fittest survive--we'd better kick ourselves in the butts and get with the program!
Spread the good word of HealthierUS.Gov...while we still have a fighting chance.
-Ron Jones, June 2002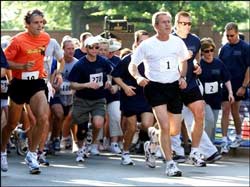 Get Fit. Be Strong.
"If you just look at the numbers, it can be overwhelming. Obesity is epidemic in the United States. In recent years, diabetes rates among people ages 30 to 39 rose by 70%. About 48 million adults in the United States smoke cigarettes, even though this single behavior will result in disability and premature death for half of them. An estimated 60% of American adults do not get enough physical activity, and more than 25% are not active at all.
Yet if you talk to Americans, there is hope. They say they generally know what will make them healthier, but they are confused about what specific information is credible and accurate. HealthierUS.gov will be that source of credible, accurate information to help Americans choose to live healthier lives."
-Quoted from HealthierUS.Gov, June 2002 Homepage