Campus Dedicates Hoffman Memorial
By Daniel F. Hunt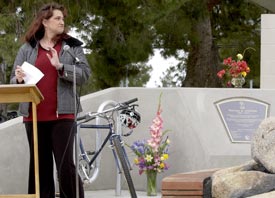 Media Credit: Todd E. Swenson / The Rip

Kirsten Hoffman remembers her father, Norm, at the recent memorial dedication.


The plaque honoring Norm Hoffman, the late Bakersfield College professor and cycling champion, will arrive this month, ending a yearlong project to construct an area to honor the man everyone knew simply as "Norm."

On March 16, more than 100 people gathered at the nearly completed site to dedicate the memorial that is located steps away from the new aquatic center.

"I think (the memorial) symbolizes what Norm did for all of us," Ron Jones, a close friend to Hoffman and fellow BC professor, said to the crowd.

Hoffman was struck and killed in March 2001 by a car while he was riding his bicycle on Fairfax Road in northeast Bakersfield.

Donations for the memorial came from individuals and companies in the community.

College President Dr. Sandra Serrano said that she was happy to see a memorial on campus that honored one of BC's top professors.

"He really taught with a passion but practiced what he preached," said Serrano. "Norm Hoffman was one of those professors that touched the lives of thousands."

Holding back tears, daughter Kirsten Hoffman said the memorial was a fitting tribute to her father.

"This spot of this dedication is (next) to where my dad's office used to be," she said. "If my dad were looking out of his office window, he'd have a bird's-eye view. I know that would bring a smile to his face."

Hoffman was honored by the Bakersfield City Council which named the day as "Norm Hoffman Day." A local representative of Congressman Bill Thomas, R-Bakersfield, presented a resolution honoring Hoffman to the South Valley Bicycle Coalition and the Kern County Superintendent of School's Share the Road program.

His son Grant said that the memorial reflected his father's admiration for the world around him.

"It's a feeling of calm," he said. "Dad would have loved it."