Ron Jones: e-Workbooks
---
Mental Skills Training Workbook
"High-Performance for Mind & Body"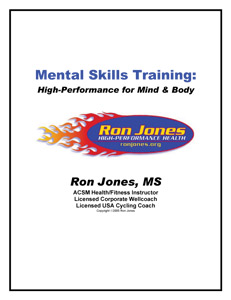 $10.00
(e-Workbook *Download Yours Today!)
*

PDF Reader Required-See Below
Update! I've been using my Mental Skills Training workshop and on-site coaching program with the BC College Football Team in California. BC Renegades finished #4 NCJCAA Football Team in the Nation after winning 12 games in a row. Head Coach Jeff Chudy was the 2007 NCJCAA Coach of the Year. Coaches and players alike have given much credit to my Mental Skills Training Program. All of the BC players have my MST Workbook, and they are using it WELL! [
To inquire about my personal Mental Skills Training Workshops, contact me.
Through education and experience, Ron has learned the essentials of Mental Skills Training that can benefit all athletes regardless of age or ability. You can now learn in a user-friendly workbook format what athletes from the Olympic level to youth sports are using successfully to enhance performance and enjoyment!
The top five sport psychology mental skills are explained in the workbook complete with introductory exercises on how to get started plus special sections for youth sports, coaches, and parents and Ron's personal tips on their benefits and implementation. The top five mental skills covered are:
Arousal Regulation (How to "NOT" waste energy!)

Relaxation (Relax & "flow" into optimal performance)

Goal Setting (Plan & organize where you are going)

Mental Imagery (Lead your body with your mind)

Attention Focus (Filter out what is not important & focus on what is)
These mental skills are critical for optimizing performance whether you are an elite athlete, recreational exerciser, personal trainer, or the parent of a young athlete. Ron has used these skills as a Two-Time Bi-Athlon All American, Race Across America Cycling Champion, Fitness Trainer, and Wellcoach.
Ron's Personal Comments:
After making sport and exercise psychology my concentration in graduate school and implementing Mental Skills Training as an athlete, coach, student, parent, and professional trainer, I have learned the essentials for Mental Skills Training that everyone should know regardless of age or ability in sports and exercise. It took me over a decade to determine which mental skills had the most value in the research, and more importantly, which had the most value with common sense and practical application. You don't need to spend ten years going over research journals to learn the basics of Mental Skills Training because I've compiled this information for you and put them together in an affordable workbook format for easy access.
In addition to the research suggestions, I have included personal tips based on my experiences and practical application for each of the five major mental skill intervention categories and youth sports philosophy covered in my workbook. I have used these interventions successfully from youth sport coaching to my international competition as an endurance cyclist. Sport psychology is a science backed by decades of research which has benefited thousands of athletes…with a little work and focus, sport psychology and Mental Skills Training can also benefit you!
In Mind, Body & Spirit,



Order Your Mental Skills Training Workbook Today! (ClickBank Sales Link)

Adobe PDF Reader Required To View


(Get PDF Reader Free Download)

Other Ron Jones Products
Workbook Details & Purchasing Information:
Secure Server Transaction & Download through ClickBank Affiliate Powered e-Commerce

Methods of Payment: ClickBank customers can pay by Visa, Mastercard, American Express, Discover, Eurocard, Bravo, Diners Club, Carte Blanche, and JCB cards. Customers in the US can also pay by online check.

Bank Statement: Upon card approval, your statement will show a charge by ClickBank or CLKBANK*COM.

Guarantee: "ClickBank will, at its option, replace or repair any defective product within 90 days from the date of purchase. After 90 days all sales are final."

English Language Mental Skills Training Workbook (36 pages)

Sections Include: Table of Contents, Author Information, Introduction, Youth Sports: History & Overview, Youth Sports: Philosophy, Arousal Regulation, Relaxation, Goal Setting, Mental Imagery, Attention Focus, Personal Tips: Keep it Simple!, Summary, Reading Recommendations, References, Ron Jones Workshops & Contact Information.

Adobe *PDF Format Only *(Get Adobe PDF Reader for free)

Mode of Delivery: Secure PDF Download from ClickBank.

File Size: 443 KB

Delivery Time Required: Instant to under 10 minutes depending upon connection speed.

Cost: $10.00 *(Upon purchase card approval, you will be provided a unique 8-digit receipt number for your records)

Adobe PDF Format-Get PDF Reader Free Download
RonJones.Org | Back to Products | Site Map
(Updated 2.10.10)