Leg Exercises
---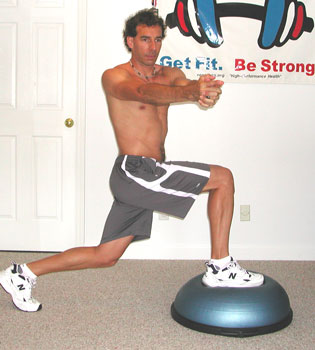 Ron Jones-BOSU Rotational Lunge
(Great for increasing hip/knee stability)
Directions: Perform my Dynamic Warm-Up exercises at "beginning" of workout for maximum benefit and improvement.
Pick a safe level; never be unsafe or exceed your capacity to "control" your body!

Coming Soon: iVideo of your favorite exercises! (+Other Video Formats)
Booty Call! J
Calves:
Lunges:

Front (Static & Alternating Step)
Rotational (+Medicine Ball)
Tubing
Walking
DB Reach

Plyometrics: (Jumping)

Box Jump
Jump Lunge
Knee Tuck

Squats:

Partner
Stability Ball
Tubing

Tabata Protocol
*Note: These exercises are intended for "normal healthy" individuals and many are only intended for competitive athletes.
If you have an injury, or abnormal pain is present, see your physician or a certified physical therapist before continuing your exercises.
RonJones.Org | Back to BodyXercise Library | Site Map
(Updated 12.15.07)