RJ Dynamic Warm-UpTM
---
Directions: Perform my Ron Jones Dynamic Warm-UpTM exercises at "beginning" of workout or even your work day for maximum benefit and improvement. Pick a safe level; never be unsafe or exceed your capacity to "control" your body!
Important Comments: With all body weight "magic," the Ron Jones Dynamic Warm-UpTM is truly the highlight. There is no better way to spend 5 minutes in terms of improving functional movements and reducing pain than these warm-ups. You only need about five minutes! I've literally had people tell me that chronic back pain vanished in the first five minutes of the RJ Dynamic Warm-Up! Forget the pain killers for back aches--do my RJ Dynamic Warm-Up instead!
Once learned, it only takes about 5 minutes to perform. All 10 exercises are performed on your feet which makes it easy to use. My DWU is not as difficult as some other dynamic warm-ups designed for athletes--but still highly effective. It has worked well with hundreds of people to decrease their pain and increase the quality of their daily movements in both athletic and non-athletic populations.

Ron Jones Dynamic Warm-UpTM DVD Available Now!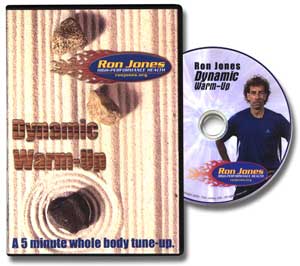 Get Your DVD & Starting Moving Better Now!
*Note: These exercises are intended for "normal healthy" individuals and many are only intended for competitive athletes.
If you have an injury, or abnormal pain is present, see your physician or a certified physical therapist before continuing your exercises.
RonJones.Org | Back to BodyXercise Library | Site Map
(Updated 10.13.08)