Yoga Exercises
---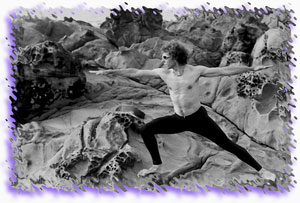 Directions: Perform my Dynamic Warm-Up exercises at "beginning" of workout for maximum benefit and improvement.
Pick a safe level; never be unsafe or exceed your capacity to "control" your body!
I am NOT a yoga instructor! I merely try to gently introduce participants to yoga through a few simple postures and suggest they seek out certified instructors or more information as desired...these are just for fun and flow...breath and posture. Most of the people I work with have never tried a single yoga pose, so I keep it simple. To learn yoga from a true master, check out my friend and tribal brother Steve Ilg of Wholistic Fitness.
*Note: These exercises are intended for "normal healthy" individuals and many are only intended for competitive athletes.
If you have an injury, or abnormal pain is present, see your physician or a certified physical therapist before continuing your exercises.
RonJones.Org | Back to BodyXercises | Site Map
(Updated 1-22-06)