Indian Clubs
---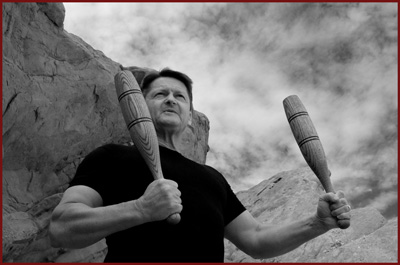 Army Maguire of Agelesstrength.Com
(Photo by Ron Jones)
Comments: The Indian Club instructor have I worked with personally so far is Army Maguire of Agelesstrength.Com. Indian Clubs have been around for thousands of years and are starting to become popular again--at one point in America, Indian Clubs were used extensively in gymnasiums, schools, military academies, and even in churches. I'm supportive of them because I believe they have both restorative or corrective potential plus can be a great workout too if that's what you want. I'll be adding to this section in the months to come...swing on!
Handouts by RJ:
Purchasing Indian Clubs:
Indian Club DVDs:
Demonstration Videos:
References:
*Note: These exercises are intended for "normal healthy" individuals and many are only intended for competitive athletes.
If you have an injury, or abnormal pain is present, see your physician or a certified physical therapist before continuing your exercises.
RonJones.Org | Back to Coach&Train | Site Map
(Updated 12.10.12)..