Triathlete Cindy Wilson:
Dramatic Risk to Dramatic Achievement!
By Ron Jones, MS, Licensed Corporate Wellcoach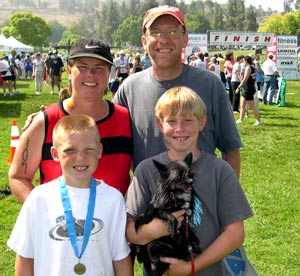 Cindy Wilson with Husband Bill
Sons Tyler & Brady
The Journey Begins. Cindy Wilson. September 2003. 260 pounds and facing gastric bypass. Her BMI was 40.8 which by definition is "Dramatic Risk of Health Problems." This is where I started with Cindy last fall as her Wellcoach. Fast forward a few months to the subject of this story—her triumphant completion of the Danskin Women's Triathlon in June 2004. Cindy achieved an accomplishment that even I could not have imagined in such a short period of time—she is the real deal—a female triathlete with passion and intensity yet an incredible supportive sensitivity to all her female competitors at the 2004 Danskin…hold on…you're in for quite a journey…
Cindy started literally with one step at a time. I happened to actually live in her neighborhood and knew Cindy from our high school days. She had gained a lot of weight. I would see her walking for a couple of days before she'd disappear. A few months later I'd see her struggling again to walk around the block. Back in the day I used to run cross country with Cindy and knew her as a good athlete at our high school where she did multiple sports. One day I stopped her and asked if she would like to read some of my fitness handouts on exercise psychology. I thought they would help her "stick with it" this time. She was very open to reading them and eagerly took them home. A few weeks later I got an e-mail from Cindy asking about my Wellcoaching services with Wellcoaches.com. She was ready to begin a journey, or as she puts it, "…to get 'me' back again."
I started by just getting Cindy to walk consistently, first slow, then moderately, then finally at a power walk pace. We together as a team and tediously adjusted her eating behaviors. Immediately Cindy's body began to react. Her weight started dropping, and her fitness levels started jumping. Ever so carefully we worked through her physical limitations. Her excessive weight and athletic injuries from high school had given her some knee and foot problems. In the past she had always failed an exercise program because she would break down physically by doing too much too fast. I was determined to ease her through these pains towards success. To her credit, Cindy remained patient and smart. She pushed her edge—but did not jump over it.
Cindy the "athlete" started to emerge once again. As with many athletes, she started wanting some sort of fitness challenge that was competitive. In Wellcoaching, we like to establish some long-term goals with clients. Something for them to shoot for beyond just the weekly goals. Cindy confided that she had always dreamed of doing a triathlon. Whoa! At this point Cindy was still having knee and foot problems and was still over 245 pounds. I was positive about her goal but had some reservations for her safety and well-being…but we moved cautiously forward.
Cindy started searching the internet and talking to other people about triathlons and decided to target the Danskin Women's Triathlon in June of 2004. I wasn't sure if she could do it, but nonetheless, we started fine tuning her workouts. Her knees and feet got better and better. Her body got more and more fit. She also kept losing weight each week taking even more stress off her body (Cindy actually lost weight consistently every single week these nine months except for one.). Days turned into weeks and then months and before we knew it we were getting her bike ready and borrowing a wetsuit. She was registered and going to Danskin! I made plans to attend her race for moral support. The race was on!
It is hard to describe what I felt like as her Wellcoach standing there the morning of the triathlon. The hustle of busy triathletes and their support crews all preparing for competition—and Cindy was one of them. It was amazing to think of what she had achieved in just nine months since we started together. Cindy had lost over 60 pounds and was a true fitness machine. She didn't even look like the same person--nor did she feel like the same person. She went from trudging around the block struggling to put one sore knee and foot in front of the other to racing a triathlon…I wore sunglasses not only to protect my eyes from the warm SoCal sun but to hide my emotions for her progress. Cindy there on the beach with the national anthem playing with her husband and children proudly watching her…wow…it was one of the best moments of my coaching career—and even my life.
Cindy finished the 2004 Danskin Women's Triathlon in 2:25:50 and 286 out of 347. She completed a ½ mile lake swim, 13 mike bike ride, and 3.1 mile run by charging down the hill and through the finish line into the arms of her waiting and cheering family. I was the guy hiding behind the video camera and sunglasses. It was absolutely incredible, but I had no idea what this race would come to symbolize for Cindy and her family. A couple of months later, I phoned her for an interview…we were both emotional as we talked…this is "her" story.
As I interviewed Cindy in late July she had lost a total of 65 pounds since we started in September of 2003. She is taking it easy this summer spending time with her children and getting ready to start training hard again this fall for her "next" triathlon. I learned a lot more about Cindy the morning during our interview. She started our conversation by going to the end of the race. Cindy confided that she stayed until the very last competitor crossed the finish line—now that's class. Cindy then admitted she was very scared at first because she had not competed in so long, but it was something she was driven to do "for her" before anyone else. As she has said many times, "I had to get 'me' back." Despite doing the race for herself, she stayed for the last finisher and was extremely moved by her fellow competitors. She said everyone had a story of truly moving inspiration. I agree. If you ever get the chance to check out a Danskin Triathlon—GO! Really…you won't be the same.
The Swim. When we started talking about the swim, Cindy immediately quipped, "This was the hardest thing I ever did in my life!" After she started the swim and only into the lake a few yards, Cindy pulled up out of the water much to our dismay on the beach. She had no experience swimming in "open water." The waves were throwing her out of position. These were tense moments. Her husband Bill is jovial—always chipper and upbeat. I looked over at Bill and the guy was sweating bullets! We were all powerless to do anything—it was up to Cindy now. She dog paddled and struggled inch by inch and finally made it past the first buoy. What got her through besides her own determination was the "swim angels" in the water with her and the cool lifeguard guy on the surfboard paddling along. She was scared. The lifeguards gave her the safety and security she needed to push forward. 28 minutes later the most tired Cindy I have ever seen emerged from the water—but still smiling and ready for the bike!
The Bike. "It was hilly and hard but nice scenery…and I didn't walk!" Cindy told me proudly. The bike was Cindy's favorite event and also her strongest. She had her best ranking on the bike too—244 out of 347 coming back from the swim rank of 308 out of 347. Cindy hammered the bike—bravo!
The Run. Cindy's highlight was meeting a friend that helped her on the last and final leg. They ran stride for stride and finished together helping each other the whole way. This could also summarize the Danskin experience in general. There was camaraderie at this race that is rare…so many people racing "with" each other. It was interesting. The focus was not on the overall or division winners, but rather, the focus was on everyone that had the guts to get out there and do it! Short, tall, young, old, heavy, thin—it didn't matter because these women were all there for each other despite doing it for "themselves."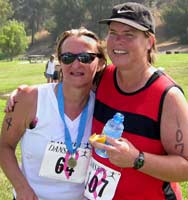 Cindy with running friend
The Finish! To hear Cindy's name booming out on the finish line PA system was great…and was I relieved! She had just completed the most amazing achievement…her life, her family's lives, and mine will never be the same…and thank God for my sunglasses. She was so rightfully proud of herself for finishing as we all were for her as well.
The Aftermath. This is the part that blows me away. So much has changed "after" the triathlon. There has been a wellness metamorphous with her family and friends. Cindy told me a lot of people were following her progress as she got ready for the triathlon and have now been truly inspired by her journey. Cindy has realized that she is now a "living example of what a person can do." She has also reflected on what it would have been like for her to go the other way—to admit failure to control her own behaviors and have a gastric bypass surgery. She could have lost the same 65 pounds by the same date—but in a totally different way. By her own admittance, having the surgery would have been mentally devastating for her. She said it would have been "admitting failure" even thought the end result of weight loss would have been the same. She got "her" back the right way. Cindy had tried before—and failed. She just needed a little of the right help and support which came in the form of Wellcoaching.
Now Cindy's family is "an active family" that seeks recreation in the form physical activities. Her two boys have been totally transformed by their Mother's journey. They now challenge themselves to be their best. They are proud of their Mom, but Cindy says her boys see her now as "not just Mom but a triathlete and person that has endured the hardship for positive change." Yes, Cindy is not just Mom anymore…she's an active role model for Wellness with her family and community.
Wellness has enhanced Cindy's life—beyond weight loss, beyond triathlons, beyond friends and community, Cindy now is even stepping it up as a parent. She believes parents need to be more responsible about teaching their children about health and fitness before it is too late. Cindy is teaching her children by living example the most important lesson in life—the one of lifelong health and well-being—and that will save them years of needless suffering facing other children in our country today.
So what's Cindy's next goal? Check her out at the 2005 Danskin pushing on that two hour barrier. She's a wellness and Super Mom fitness machine…and believe me…she will get it done!
Thanks Cindy. I didn't realize how much your triathlon experience changed your life—but you've also changed mine forever. You're awesome and have made my experience as a Wellcoach a true blessing…See ya in 2005!

View Cindy's Danskin Slide Show

Read about Cindy & Ron in the LA Times! (4-26-04)

Read Cindy's Testimonial for Ron Jones

Wellcoaching with Ron Jones
*To find out more about the Danskin Women's Triathlon Series, go to www.danskin.com
RonJones.Org | Back to Coach&Train | Site Map
(Updated 8-8-04)