Healthy Gift Ideas!
---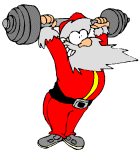 "First inspire then perspire." --Jack LaLanne
I've usually buy "healthy" gifts for people on holidays and special occasions as a way to inspire them. There are many practical and reasonably priced gifts that can help people become more healthy and fit. Below are my top recommendations by category. I'm simply passing on some great resources. Think about gifts that can encourage a life time of well-being and help your loved ones bring in a HEALTHY AND FIT New Year!
Health/Fitness Books & DVDs: (Youth) These books and DVDs have been carefully picked because they promote not sports--but a lifetime of physical activity. You don't have to be an athlete to exercise and be fit--send the message of a fit lifestyle to kids with these great choices.
Fitness Equipment: (Youth) Two of my favorite equipment ideas just to get started.
The Healing Drum Kit: Use the art of drumming to ignite your creativity, release tension and anxiety, exercise the body, and communicate with a power beyond words.
Health/Fitness Books: (Adults) I have a lot of training books, but these are a few top picks for health and fitness information.
Fitness Equipment: (Adults) See my top picks for home equipment like stability balls, exercise tubing, and medicine balls.
RonJones.Org | Back to Current Comments | Site Map
(Updated 11.30.12)