Anatomical Position
---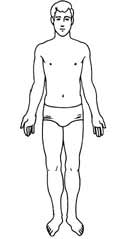 This is the basic anatomical position health and medical professionals use when describing the human body. This drawing is great for standardizing a basic body position so everyone knows which part of the body is the front and which part of the body is the back and which parts of the body are the sides--but it's not very functional in terms of actual human movement. How often do you stand in the anatomical position? Never! How often do you initiate functional "real world" movements from the anatomical position? Never! Thus, the anatomical position is good to know and understand as we discuss functional fitness and human anatomy, but it has its limitations in the real world of dynamic human movement.
A modified version of the anatomical position is used to begin balance exercises--so that's how we'll use the above figure. A basic position will be like above but with the hands and arms in a relaxed and natural position (palms towards body). From here, static and "inner zone" balance is obtained then maintained with mastery. Once static/inner zone balance has been mastered in the starting position, one can then move towards more dynamic or "functional" balance exercises.
See how the anatomical position relates to functional planes of motion.
RonJones.Org | Back to Functional Training | Site Map
(Updated 11.23.07)