Ron Jones: Functional Training
---
"When we lose the ability to move in full and uninhibited ranges of motion, the quality of life, sport, and work are decreased."
Annette Lang, Reebok Alliance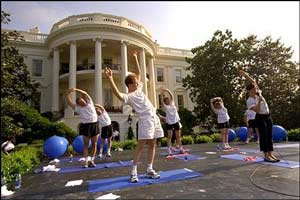 Even the White House is doing Functional Training!
What is Functional Training?
Anatomical Position
Planes of Motion
Functional Training Handouts: (PDF only)
Functional Training Exercise Photos
Functional Training Seminars/Websites/References: *Highly Recommended!

CORE Performance by Mark Verstegen (A must buy book for learning about functional exercises!)*
Functional Training Equipment:
Adobe Acrobat Reader needed to view (PDF) Files.
*Note: The exercises in these handouts are intended for normal healthy individuals. If you have an injury, or abnormal pain is present, see your physician or a certified physical therapist before continuing your exercises.
RonJones.Org | Back to Health & Fitness | Site Map
(Updated 11.23.07)