Child Obesity
---
"Child Obesity is Child Abuse!"
--Ron Jones, Child Health Advocate
"16% of American youth 6-19 are now overweight and 34% are at risk for becoming overweight."
--Centers for Disease Control, August 2007
"The prevalence of overweight adolescents 12-19 has nearly tripled in the past two decades."
--U.S. Surgeon General, December 2002
"In California, 26.5% of all children are overweight and 39.6% of all children are unfit."
--California Center for Public Health Advocacy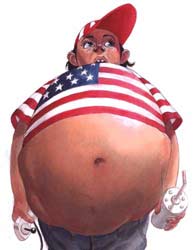 Obesity Surgery Triples Among U.S. Teens (MSNBC.Com)
Due to the increasing problems with child obesity in America, I have created a section strictly for child obesity resources. Child obesity has nearly tripled in the last 30 years--this is NOT ACCEPTABLE!!! Help pass the word to stop child obesity. Child obesity is the fault of adults--NOT children! We all need to do more to take care of our future which is our children. Don't assume that so many overweight kids are "normal" just because they are everywhere!
"Child Obesity is Child Abuse!"
--Ron Jones, Child Health Advocate
For health & fitness resources, please visit my Youth Health & Fitness section.



I recommend PerformBetter High-Quality Fitness Equipment!

PowerPoint Presentations NEW!
I don't normally post PPTs because these are specialized presentations I do for groups by arrangement; however, I have posted an Obesity Update below for all to see. Feel free to use my PPT with the current data updates from the CDC and others to promote obesity PREVENTION!

Obesity Update Presentation

(CDC Obesity Trends & Data Updates)
Child Obesity Primary Sources:
"Children need 60 minutes per day of moderate physical activity most days of the week."
--U.S. Surgeon General
Child Obesity Prevention & Health Advocacy:
Child Obesity Supplementary Articles:

Visit My Adult Obesity & Diabetes Section

Visit My Nutrition Section

Visit My Obesity Prevention After-School Physical Activity Program
"We must live our lives in such a way that our children,
and their children after them,
will form a natural and lasting commitment to the vigorous life.
Only in this way can we be assured that the spirit
and strength of America will be constantly replenished."
--President John F. Kennedy, U.S. Official Physical Fitness Program Booklet, 1963
RonJones.Org | Back to Weblinks | Site Map
(Updated 10.28.08)