Ron Jones: Youth Health & Fitness
---
"The youth of a nation are the trustees of posterity."
--Benjamin Disraeli
The youth of America are in danger. They are overweight, obese, and unfit to take this nation into the next millennium. We are killing our children with fast food and lack of physical activity. Check out how YOU can help get our kids more fit and healthy...before it's too late!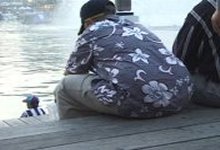 Fast Food Indulgence & Lack of Activity=Unhealthy Bodies
So Let's Get Moving!
"Child obesity is child abuse."
--Ron Jones, Child Health Advocate
Youth Fitness Related Web Sites

PowerPoint Presentations NEW!
I don't normally post PPTs because these are specialized presentations I do for groups by arrangement; however, I have posted an Obesity Update below for all to see. Feel free to use my PPT with the current data updates from the CDC and others to promote obesity PREVENTION!

Obesity Update Presentation

(CDC Obesity Trends & Data Updates)

Playground & Fitness Equipment Design Concepts

For obesity-specific information, visit my new section on Child Obesity

Check out the new BAM! Health Website (Body & Mind) for youth created by the Centers for Disease Control.

Great Kid Fitness Books

An Epidemic: Overweight & Unfit Children in CA Assembly Districts (CA Center for Public Health Advocacy)

Youth Sportsmanship
RonJones.Org | Back to Health & Fitness | Site Map
(Updated 5.3.08)