Ron Jones: "Fit for Life"
After-School Physical Activity/Obesity Prevention Program
---


"Beginning a lifetime of health today!"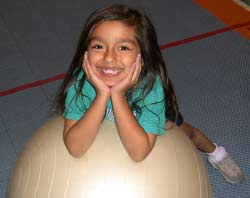 "It is better to build strong children than to try to repair adults."
--Anonymous
I was hired as a health/fitness consultant by the Boys & Girls Club to design, implement, and administer an after-school physical activity program for obesity prevention in Central California. Program funding was provided by Kaiser-Permanente. The Kaiser-Permanente Grant was personally endorsed by California Assemblyman Kevin McCarthy (R-Bakersfield). The program targeted four sites. Three sites were elementary schools and one was the local Boys & Girls Club. Participation was requested by parents or guardians. All children were invited to participate whether overweight or normal weight. I named the program "Fit for Life" because we were trying to mold healthy behaviors of physical activity and health--for life--not just for the school year.
"Fit for Life" was a one-year pilot program that operated for the 2003-2004 school year. At the present time, Fit for Life is no longer operational; however, I hope to eventually re-create this program in the future. I have also been helping others to use the Fit for Life format for their communities. I have received inquires about my Fit for Life Program from around the US and Australia including a national TV show based out of NYC.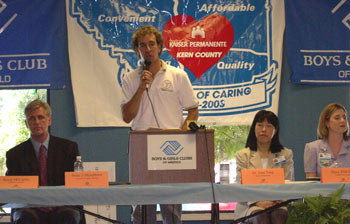 Ron Jones with CA Assemblyman Kevin McCarthy
"Fit for Life" Activity Program Press Conference, July 2003
"Childhood overweight and physical inactivity have reached epidemic levels in California, dooming our children to serious health problems now and in the future, and saddling the state's economy with exorbitant and preventable long-term costs...there are high rates of overweight and unfit children in all 80 Assembly Districts and all 40 Senate Districts in California--even in those districts with the lowest rates."
--California Center for Public Health Advocacy
"We need to tackle America's weight issues as aggressively as we are addressing smoking and tobacco...the lack of quality, daily physical education is one of the most glaring reasons for our obesity problem, particularly for children."
--Tommy G. Thompson, Health and Human Services Secretary, May 2004
The Fit for Life Program was based on what I call "Fitness Play." There were NO traditional sports in this program! No football, no basketball, no soccer, no baseball, no volleyball. Competitions with winners and losers were eliminated and replaced with good healthy fitness play that created a quality experience and enjoyment. I opted for "alternative" life-time activities like strength conditioning, balance and agility training, flexibility, fun aerobic activities with walking, playing, and Frisbees. Fit for Life also be taught children how to think differently about using existing playground equipment. Each day began with a mini-nutrition lesson because physical activity alone will never be enough to combat the epidemic of obesity today in America. For a healthy and secure America, our children must learn to Get Fit and Be Strong!
In health,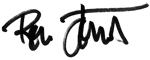 "You can discover more about a person in an hour of play than in a year of conversation."
--Plato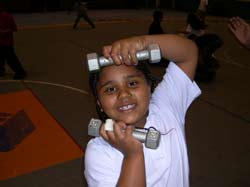 Girls are strong too!

Activity Leader Handouts: (PDF)

Fit for Life School & Program Sites:

Nutrition Mini-Lessons

Photos

Press Coverage

Program Information: (PDF)
"In California, 26.5% of all children are overweight and 39.6% of all children are unfit."
--California Center for Public Health Advocacy

Student Feedback & Letters

Videos (Fitness Fun in Action!) NEW!

Weblinks:

Visit my Child Obesity Section

Check out my "Fitness Play" Training Program for Overweight Children
RonJones.Org | Back to Health & Fitness | Site Map
(Updated 4.2.08)