Ron Jones: Personal Training
Atlanta-Los Angeles
---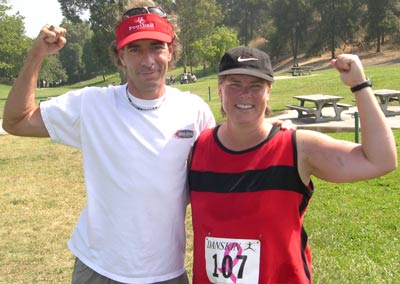 Ron Jones with Triathlete Client Cindy Wilson
@ 2004 Danskin Women's Triathlon
Los Angeles, CA
Update: Due to my corporate schedule, I am no longer available for personal training.
I am a Health/Fitness Instructor, fitness trainer, and corporate Wellcoach. I also perform Health/Fitness Consulting for individuals, organizations, schools, or businesses.
People that train with me move better with less pain and higher efficiency.
Been on the couch a while? No problem--let's get busy! Been specializing in your sport too long and lost control of functional movements and experiencing mental burnout? Do you have too many aches and pains that stop you from doing activities you enjoy?

No problem--let's restore the function you've lost and learn how to have fun again!
It's your body and your health, and you are worth the investment!


I recommend PerformBetter High-Quality Fitness Equipment!
TRAINING PROGRAMS

Testimonials

"Fitness Play" (Small Group Training for Overweight/Obese Children)

Mental Skill Training (Coaches, Parents, Youth)

Football Pre-Season Conditioning (Core Stability/Joint Mobility) NEW!

Nutrition Consultation

Seniors

Shape Up Class (Atlanta)

Small Group

Special Populations

See My Home Gym
PRIMARY TRAINING FORMS
(Must be completed & evaluated before physical training begins)
SECONDARY TRAINING FORMS
(To be completed as directed if applicable)
RonJones.Org | Back to Coach&Train | Site Map
(Updated 2.12.09)