Ron Jones: Senior Health & Fitness
---
After you read this section--GET MOVING!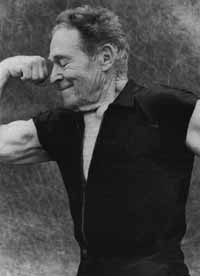 "It's never too late to take care of your body...I don't care if you're 90 years old--it's never too late."
Jack La Lanne at age 87, Los Angeles Magazine, January 2002
Senior Fitness Training with Ron Jones
Senior Fall Prevention Project
"How old would you be if you didn't know how old you were?"
--Satchel Paige
Active Seniors On the Move!
Jack LaLanne Tribute (Homepage)
Senior Testimonials for Ron Jones
Senior Supplementary Articles:
Senior Weblinks
Senior Websites/Primary Sources:

"There's not a day I don't exercise. I want every senior and every man, woman, and child to work out for the rest of their life because it's a healthy lifestyle."
--Jack La Lanne, USA Today, May 2000
RonJones.Org | Back to Health & Fitness | Site Map
(Updated 11.23.07)