RonJones.Org: Core Exercises
---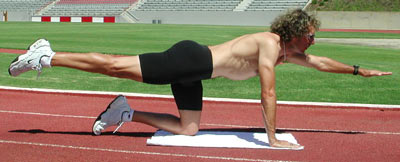 Directions: Perform Dynamic Warm-Up exercises at "beginning" of workout for maximum benefit and improvement.
Pick a safe level; never be unsafe or exceed your capacity to "control" your body!

Note that "core" is the trunk area from waist to chest, front, sides, and back—all the way around. While some core exercises emphasize certain areas of the core more than others, ultimately the core muscles work together in unison as "nature's girdle" to support your spinal column. Move better no matter what your sport or activity—develop your CORE!

Print Core Exercise List (Organizer Only-No Directions)
CORE Bridging: *(These bridges are high-priority core exercises)
ABS/Obliques/CORE:
Seated Chair:

Curl Up (Heel-To-Toe)

Curl Up (Straight Legs)

Curl Up (Elevated Legs)

Foot Flippers

Reverse Crunch

Partner Sit Up Pass

Partner Crunch
Back/CORE:
Core Exercises Using a Partner:
Crunch
Foot Flippers

Sit Up Pass
Core Exercises Using Equipment:
Medicine Balls:

Overhead Chop
Over & Under Partner Pass
Partner Sit Up Pass
Torso Twist (+SB)
Trunk Twist Partner Pass

Racks/Straps:
Stability Balls:
Tubing:

My Other Core-Related Sections & Handouts:
*Note: These exercises are intended for "normal healthy" individuals and many are only intended for competitive athletes.
If you have an injury, or abnormal pain is present, see your physician or a certified physical therapist before continuing your exercises.
RonJones.Org | Back to BodyXercise Library | Site Map
(Updated 9.8.08)